Property & Estate management
As part of our commitment to our clients, a dedicated Property Manager with expertise in block management will be assigned to your property.  They will attend client and resident meetings, and will inspect your buildings at least once a month. 
Our approved contractor scheme ensures that our suppliers (who are instructed on behalf of our clients) are experienced, qualified and insured.  The scheme allows us to monitor our suppliers to ensure that the level of service they deliver to you is of the highest possible standard.
We firmly believe that prevention is better than cure so we run planned maintenance and renewal programmes, and we encourage you to have a Capital Expenditure Plan.
We measure our quality assurance through our quarterly client surveys and feedback forms which are reviewed and acted upon at Director level.
Our comprehensive R&R Online portal gives our residents access to their account histories and useful documents. Residents can control the kinds of information they receive from us, including emergency messages by text or email, routine notices and notification of deliveries.
Financial management
Sound financial control is the cornerstone of professional property management. Working with us, you can have complete peace of mind that your funds are professionally managed and protected. Being regulated by RICS guarantees our full financial compliance.
We offer bespoke financial reporting, as well as our R&R Online portal. Our client bank accounts are reconciled daily, and clients benefit from our RICS member firm status through the RICS Client Monies Protection scheme.
We offer comprehensive bespoke financial reporting, delivered at a minimum, every 4 months. Our reporting includes:
Expenditure against budget (with accruals and prepayments).
Reserve reconciliations and cash balances.
Service charge accounts.
Regular void schedules (for our developer clients), and credit control reports on debtors and arrears collection.
We know that client requirements vary, so we're happy to adapt our reporting to meet your particular needs.
Every property has a dedicated credit controller who deals with specific lessee cases sympathetically and constructively, ensures cash flow, and where necessary works with solicitors to take action.
We remain innovative in our approach and always look for ways to improve the efficiency and excellence of our financial service to our clients.  As an example, we recently completed the reorganisation of our client accounting function which has improved alignment with the client portfolios. This has included significant investment in IT and additional client accounting resource.
Health and safety
The health and safety of everyone involved in our business is a key consideration in all that we do. Our policies and processes, governance and training are enabling us to make continual performance improvements, ensuring we remain a leader in health and safety within our sector.
Insurance
As a client of ours you can take advantage of our bespoke insurance which offers numerous benefits including:
Our qualified, in-house Insurance team have many years' experience ensuring our clients diverse range of assets are fully protected.
We can arrange cover whether your property is a small residential scheme, a large mixed-use development or anything in between!
Locations covered across the UK.
We have extensive access to market leading A+ rated insurers enabling you to benefit from competitive premium rates and wider than standard levels of cover through our All Risks policy wording.
Our dedicated support ensures you are fully protected so you can fulfil your responsibilities even if there are unexpected events.
Our specialist claims facility will provide the expertise and assistance to ensure you receive a swift settlement.
We can also work closely with you to prevent and reduce claims through innovative risk management measures which help to reduce your premium and excess levels, and the inconvenience of claims.
Our key policies include:
Buildings & Terrorism - you can benefit from: a bespoke policy wording that is wider than that available as standard; competitive premiums negotiated as a result of our economies of scale; a competitive broker commission agreement and a specialist claims facility ensuring efficient progress in the event of a claim.
For more complex properties, including high value ones, we can provide a tailored approach without sacrificing high levels of cover.
Through our panel of RICS accredited surveyors we can also assist you with Buildings Reinstatement Cost Assessments to ensure your assets remain adequately insured.
Directors & Officers - as a Director of a management company you have certain responsibilities and duties for which you can be held personally accountable. The specialist Directors & Officers insurance policy we facilitate provides you with the necessary protection at a competitive premium rate.
Engineering - failure of mechanical engineering equipment can be extremely costly as well as causing significant disruption. Engineering insurance provides you with cover you need in the event of an incident, as well as the necessary statutory inspections by a qualified Engineering Surveyor.
Rendall & Rittner is regulated to undertake insurance distribution activities by the UK Financial Conduct Authority (FCA).
Technology
Bringing people and technology together: 
Our people have always been at the centre of the service we deliver to our clients and customers.  To compliment this, we are developing our own market leading tech solution. 
Built with leading technology and developed specifically for our industry we are using our extensive market knowledge and experience to bring together all aspects of property management.  Our new solution is engaging and easy to use wherever you are. 
It will provide a complete and transparent picture for our clients and customers. By automating repetitive tasks, it will free up our people to ensure that they are focused on the needs of our clients and customers. 
The first element of the platform, the MyPlace customer portal, will have regular launches to developments throughout this year from early Summer into 2024. A client portal will be being built from late 2023. 
Looking further ahead we believe there are considerable benefits in investing in a proprietary platform which will enable us to continually update it to stay ahead of growing sector requirements.
To find out more about this exciting project view the video here:
Procurement
Through our sector leading bulk procurement initiatives we can offer you highly competitive prices when purchasing supplies and services such as utilities, lifts, insurance and M&E services. We are major clients to our suppliers, which enables us to offer you unrivalled service and value.
Established procurement contracts.
Dedicated utility and lifts management teams.
Lifts maintenance contracts procured and negotiated for over 2,100 lifts.
Significant utilities buying power in the market.
Competitive tendering and service enhancement.
National and local procurement e.g. M&E, window cleaning.
Operations
Our expert Operations division further enhances our service to clients and customers. The team has a wealth of experience in customer service, estate, building and block management, recruitment and people management.  It is enabling the delivery of exceptional on-site operations and the highest levels of customer service across all our developments.
To provide essential support, coaching and guidance for our on-site team members we have the following in place:
A field-based Operations team - who regularly visit their defined portfolio and line-manage the on-site teams. This ensures a consistent, responsive and effective approach to operational service delivery and has released Property Managers to fully focus on asset management and client relationships. The team ensures operational compliance including Health & Safety, HR and SOPs, via support visits, audits and health checks.
A Community Engagement Manager – who leads on a comprehensive programme of events and activities encouraging a greater sense of community and social cohesion.
An Estates Management Team - provides experienced, professional absence cover for senior on-site team members.
Our unique Temporary Staffing Solutions (TSS) - is our agency that provides our clients with access to a trained and experienced temporary staffing pool. This ensures that a quality, cost effective service is maintained and delivered at your properties at all times. We can assist with a wide variety of on-site roles including concierges, cleaners, caretakers, security, estate operatives and more.
View our 2024 TSS mini-brochure
"Our operations team reinforces our ability to provide the highest standards of service within our on-site operations on a consistent basis."
Duncan Rendall, Group Chairman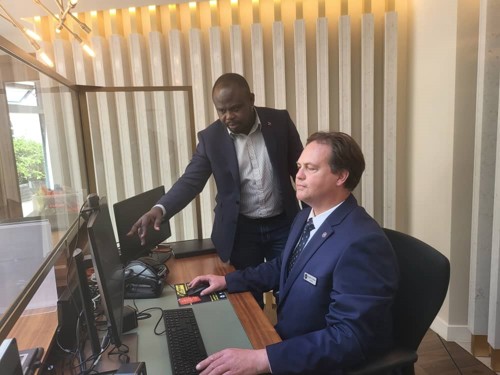 Mobilisation services
Our dedicated, experienced Mobilisation team provides fully tailored support and guidance to developer clients ensuring smooth development handover planning.
The Mobilisation team will lead on delivering the mobilisation plan for estate management services, working with the client, the incoming building management team and building suppliers, to ensure that the requirements for mobilisation, acceptance and handover of services migrate seamlessly from construction to 'use' stage.
Our operational and facilities management mobilisation services are tailored to client requirements, but typically includes:
Preparing / reviewing an operational budget.
Partnering with an MEP consultant to review the scope of MEP and to tender the maintenance contracts.
Partnering with other specialists such as leisure and placemaking consultants, to ensure any specialist requirements are factored into mobilisation plans.
Highlighting and advising on any pre-handover issues which could create a long-term cost, customer service or legal risk.
Tendering supplier contracts ahead of Practical Completion and Handover.
Creating mobilisation-stage budgets for developer funding of on-costs, including the initial supply of estate tools and machinery.
Communicating any quality and finish tolerances ahead of handover.
Reviewing all health and safety requirements ensuring they are in place.
Tailoring welcome packs and other customer communications to meet client requirements.
Company Secretarial services
We have a specialist in-house team who deliver a broad range of Company Secretarial services to our clients. 
Our regular service includes:
Providing a registered office address.
Directors' service addresses.
Maintaining the Register of Directors and Secretaries.
Maintaining the Register of Members/Shareholders as required.
Maintaining the PSC (Persons of Significant Control) Register.
Taking custody of and maintaining the Minute Book.
Filing at Companies House, any changes in Registered Office, Directors or Company Secretary and Resolutions.
Preparing and submitting Confirmation Statements (previously known as Annual Returns).
Ensuring that filings at Companies House take place on time so as to avoid financial penalties and striking off action.
Transferring share to the new owner upon completion of an individual property sale.
Updating the Register of Members using the Application to become a Member form upon completion of an individual property sale.
Additional specialist advice and support
From time to time, the need may arise where you need advice and support regarding company related matters, such as a dispute arising within the RMC Director group or within its members, or the Directors want to make specific changes to their company Memorandum and Articles of Association. In such circumstances, we can offer you the services of a specialist to provide advice and, when required, attend meetings.
HR and staffing
At Rendall & Rittner our employees are the key to our ongoing success. We recognise that it's our people that makes us who we are, and we therefore strive to attract, retain and develop the very best.
We know that our on-site team members are vital in ensuring that every development is presented and managed to the highest possible standard, delivering excellent customer service for residents, while protecting your asset. It's no wonder that staffing is such a major part of an annual service charge budget.
That's why we invest in training, wellbeing and development for all our people. We're extremely proud that this commitment has been recognised with an Investors in People Platinum accreditation, which we've held since 2018, placing us in the top 2% of companies internationally.
We support and encourage our employees to seek professional qualifications through IRPM (a mandatory accreditation), RICS, CIPD and CIMA. We monitor employee development through regular appraisals and offer access to a wide range of training programmes, covering all aspects of their role; from customer service to health and safety, cultural awareness and first aid.  Our scale means such training can be provided as cost effectively as possible.
We have also teamed up with LifeWorks, the leading employee engagement and wellbeing programme, to offer confidential 24/7 support for any work, health or life issue. 
Through our dedicated HR department we advise our clients on a wide range of people related issues, including HR system onboarding and TUPE, as well as enabling access to professional external legal advice. We have specialists in recruitment, employee relations and learning and development, along with more generalist HR support. 
Our unique Temporary Staffing Solution (TSS) provides an unrivalled level of temporary cover for our developments, by utilising our highly experienced employees to cover shifts across our portfolio. It also enables our clients to access an external pool of dedicated R&R trained temps.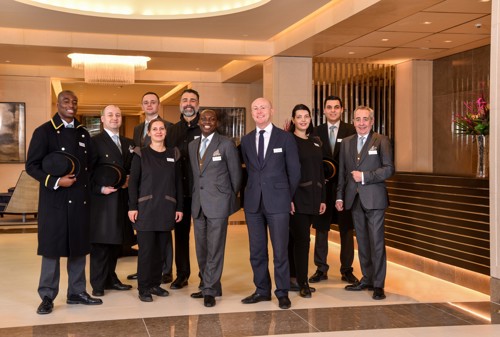 Sustainability
We are committed to developing and managing sustainable developments.  As a leading firm of managing agents, we know that we have a vital, intrinsic role to play in creating sustainable homes and places. We ensure our management is active, inclusive, safe, well run, thriving and environmentally sensitive.
Rendall & Rittner has a robust and constantly developing ESG strategy, based on our commitment to continuous improvement.   Our strengths are not limited to managing bricks and mortar – as responsible agents we have a much greater role.
We use our resources and engage with local communities to foster economic, social and environmental wellbeing, demonstrating our dedication to achieving sustainable solutions.
We are committed to:
Environmental - implementing sustainable initiatives across all our managed sites and within our business.
Social – actively engaging with our clients, customers and communities instigating initiatives which have a positive social economic impact.
Governance – setting and reporting on robust, progressive targets through our accreditations including Investors in People and ISO 45001.
Learn more about our sustainability initiatives, commitments and awards
Out of hours support
All the developments we manage can use our 24/7/365 emergency support.
Outside of office hours, clients, lessees and residents have access to our support partners who offer round-the-clock services from a wide variety of trades.
The out of hours emergency service also has access to our Property Managers, Team Leaders and Directors should the need arise.
For emergency out of hours support please call 0203 764 5587.
Development Consultancy & Surveying
Please use the following links for further information on our Development Consultancy services and also the Surveying services from our sister company, Cardoe Martin.