Health and safety
The health and safety of everyone involved in our business is a key consideration in all that we do.
Our policies and processes, governance and rigorous training are enabling us to make continual performance improvements, ensuring we remain a leader in health and safety within our sector.
The Group's Health and Safety Management System is accredited to ISO45001:2018
We are British Safety Council 5 star accredited.
We have received a ROSPA Gold Award or higher annually since 2017.
Our holistic focus on building and fire safety is enabled by our dedicated Health and Safety, Legal, Insurance and Façade Remediation teams.
Our Health and Safety team oversees safety for all our sites, providing support and advice for on-site team members, property managers and our clients.  This includes assisting our clients to understand the requirements of the Building Safety Act and our property teams to comply with all health and safety legislation and best practice.
Learn more about our health and safety measures
Understand more about the new responsibilities brought in by the Building Safety Act in our helpful videos and bite sized guides
Financial management
We want to ensure our freeholder and landlord clients have complete confidence when it comes to financial matters. 
We are RICS regulated guaranteeing compliance and protection of your monies, thereby eliminating risk.
Our in-house accountant team meticulously record, manage and deliver tailored reports of freeholder and landlord finances, while safeguarding your return on your investment. We also help maximise your income through our efficient ground rent collection and our credit control team's dedicated fund recovery.
Procurement
We have developed an innovative procurement programme to deliver great service and value for money to our clients.
We use our scale to negotiate bulk procurement in utilities, lifts, M&E services, insurance and more.
Resident communication
Effective communication is a vital component of successful management and an integral part of our management service. 
Our R&R Online portal is included within our management fee. It provides regular updates for residents and gives you one single, easy access point for comprehensive information about your development.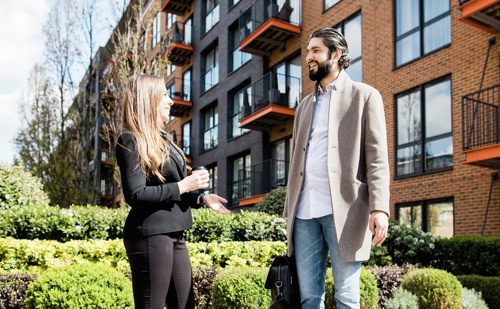 Technology
We are investing in developing an innovative new property management tech platform that will help us ensure we continue to deliver the best service in our industry.
For the first time in the UK market, our new platform will bring together all aspects of property management, providing a complete and transparent picture for our clients and customers.
It will be intuitive, engaging and easy to use wherever you are. Also, by automating repetitive and time-consuming tasks it will free up our people to ensure that they are focused on the needs of our clients and customers.
Insurance
Our qualified, in-house Insurance team have many years' experience ensuring our clients diverse range of assets are fully protected. 
We can arrange cover across the UK for every type of scheme. We have extensive access to market leading A+ rated insurers enabling you to benefit from competitive premium rates and wider than standard levels of cover through our All Risks policy wording.
In the event it's required, our specialist claims facility will provide the expertise and assistance to ensure you receive a swift settlement.