Financial management
Working with us, you can have complete peace of mind that your funds are protected. 
Being regulated by RICS guarantees our full financial compliance.
We offer our housing association clients comprehensive bespoke financial reporting, delivered promptly by our qualified accountancy team.
Resident communication
Effective communication is a vital component of successful property management.  
Our R&R Online portal is included in our management fee. It provides regular updates for residents and gives you one single, easy access point for comprehensive information about your development.
Sustainability and community
Our commitment to sustainability and community engagement is part of our DNA.
As well as recruiting from local communities for all of our developments, we aim to use local supply chains and promote community projects.
Our comprehensive community engagement programme includes events and initiatives to bring residents together, helping them to adopt greener lifestyles and feel pride in where they live.
Learn more about our sustainable community initiatives and progress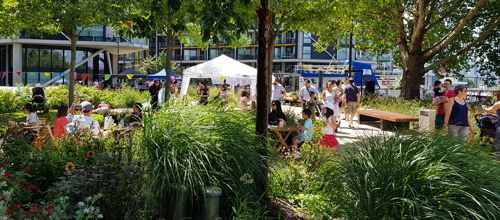 Health and safety
The health and safety of everyone involved in our business is a key consideration in all that we do. 
Our policies and processes, governance and rigorous training are enabling us to make continual performance improvements, ensuring we remain a leader in health and safety within our sector.
The Group's Health and Safety Management System is accredited to ISO45001:2018
We are British Safety Council 5 star accredited.
We have received a ROSPA Gold Award or higher annually since 2017, including our highest ever accolade of a Sector Award in 2023.
Our Health and Safety team oversees safety for all our sites, providing support and advice for on-site team members, property managers and our clients.  This includes assisting our clients to understand the requirements of the Building Safety Act and our property teams to comply with all health and safety legislation and best practice.
Find out more about our Health and Safety measures 
Explore the new responsibilities brought in under the Building Safety Act via our helpful videos and bite-sized guides
Technology
We are investing in developing an innovative new property management tech platform that will help us ensure we continue to deliver the best service in our industry.
For the first time in the UK market, our new platform will bring together all aspects of property management, providing a complete and transparent picture for our clients and customers.
It will be intuitive, engaging and easy to use wherever you are. Also, by automating repetitive and time-consuming tasks it will free up our people to ensure that they are focused on the needs of our clients and customers.
Procurement
Our procurement team are constantly seeking innovative new bulk procurement initiatives for the benefit of our clients.
Wherever we can we leverage our scale to deliver cost savings and service improvements to our clients including utilities, lifts, M&E services, insurance and more.