It's back for the 17th year and it's bigger than ever – Recycle Week takes place on the 23rd – 29th of September and our teams at Rendall & Rittner are keen to get involved. The 2019 theme, 'Recycling. It's in our own hands' aims to encourage the public to get more involved by demonstrating the different ways and benefits of recycling at home.
According to new survey results by Old Mout, nearly three-quarters of Brits (73%) took it upon themselves to be more eco-friendly this summer and almost half (44%) actively tried to reduce their carbon footprint. With sustainability firmly on the nation's agenda, Recycle Week is the perfect opportunity to reinforce the importance of recycling, making it the new norm.
In order to encourage recycling, sustainable services need to be easily accessible at work and at home. That's why we're always striving to offer more ways to make recycling convenient for residents living at our developments, as well as our staff, so they can live a more environmentally conscious life. We run several recycling initiatives for clothing, electricals, batteries, books, bicycles and even art competitions for our communities.
CLOTHING RECYCLING
SCOPE COLLECTIONS VIA LAUNDRY REPUBLIC
Have you been meaning to declutter your wardrobe? We have set up clothes collection points at a number of our developments, so residents can easily drop off unwanted clothes or hangers. Through our partnerships with laundry and dry-cleaning service suppliers, Laundry Republic, unwanted clothes are collected and given to charity, so they don't end up in landfills.
Laundry Republic deliver many of our residents dry-cleaning in biodegradable plastic packaging with cable ties that can be re-used, ensuring that single-use waste is kept to a minimum. All clothes are dry cleaned using the Miele WetCare system and Intense dry-cleaning solvent both of which are environmentally friendly.
Ian Walker, founder of Laundry Republic, says "I've been very impressed with how Rendall & Rittner's estate management teams have communicated our campaign and managed to encourage high levels of donations from residents, raising over £135,000 so far!"
"It's great to work with Rendall & Rittner, who encourage residents to have a clear out for charity. As the seasons change, it is a good opportunity for a wardrobe clear-out and we are pleased so many residents get involved to raise as much money as possible for Scope"
WHITE ROSE CLOTHING BANKS (FOR SCHEMES OUTSIDE OF LONDON)
For a number of developments outside of London, we have provided space to set up White Rose clothing banks.
White Rose turns your unwanted clothing and accessories into cash by reselling them in high street boutique stores and uses all profits raised to support Aegis Trust, who work to prevent genocide, crimes against humanity and mass atrocities.
Over the past four years, an amazing excess of 30,000kg of clothing has been collected from the White Rose clothing banks. We're continuing to encourage residents to use these clothing banks when throwing out any attire or accessories.
RECYCLE YOUR ELECTRICAL ITEMS
Do you have any old electrical items lying around at home that you don't want? Did you know that these can also be recycled? From cameras to battery-operated toys, your local recycling centre can repurpose most electrical items.
RECYCLE YOUR BATTERIES
We all know batteries shouldn't be thrown away in the usual household rubbish, so to make battery disposal easier for our residents, we're working with the European Recycling Platform. They collect batteries from over 12,000 locations throughout the UK and we are providing free battery collection boxes across a number of our developments.
For further information on this simple and efficient process, please visit their website: https://erp-recycling.org/uk/batteries/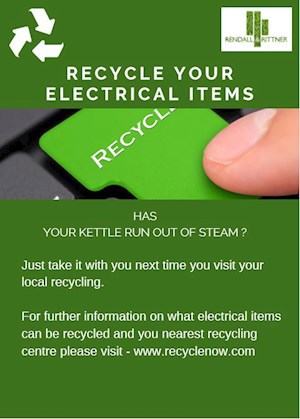 CYCLE RECYCLE
Does your development have unwanted bikes that you would like to recycle?
We have teamed up with Recycle Your Cycle – an innovative programme in partnership with the HM Prison Service in the UK who have raised over £160,000 for charities across the UK so far.
Please contact your Estate Management Team by Friday 27th September is you wish to donate an unwanted bicycle.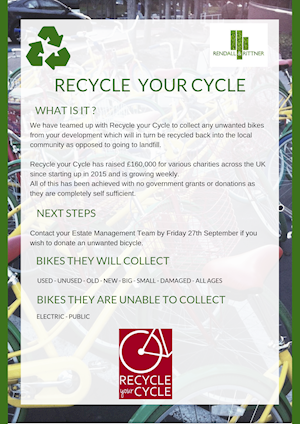 RECYCLE YOUR BOOKS
Books are hard to get rid of, so we often end up storing all of them. If you find yourself in a similar situation, here are some tips on how you can recycle your old books.
Local library - Take your used books to a local library. Some libraries will even accept donations of magazines especially if they are educational.
Local charity - Find a local charity in your area here
Sell or give books away online - Craigslist.org and Freecycle.org are two online options for getting rid of unwanted books and other items, for free or for a price.
We are happy to be able to facilitate, where possible, residents' libraries within the developments we manage. For further information please speak with the concierge in your building.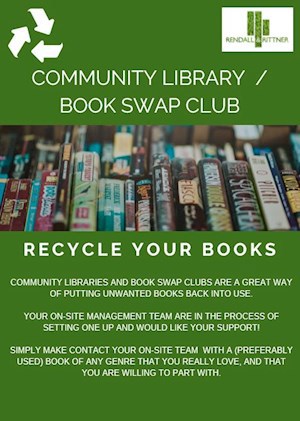 LET'S GET CREATIVE
Increasing awareness and interest in recycling among the younger generation is equally important. So, we will be launching 'The Recycled Materials Art Competition', which emphasises creativity through the use of recycled and reused materials across our developments.
Our aim is to encourage recycling, reducing and reusing of materials whilst building strong relationships within our communities. There are three age categories: 9 and under, 10-16 and 17+, so the whole family can take part. Submissions can include elements such as painting, collages, sculptures and drawing – the only rule is that it must consist of fully recycled or reused materials.
Send a high-res photo of your entry by Sunday 29th September to community@rendallandrittner.co.uk with your full name, age and property address. Good luck!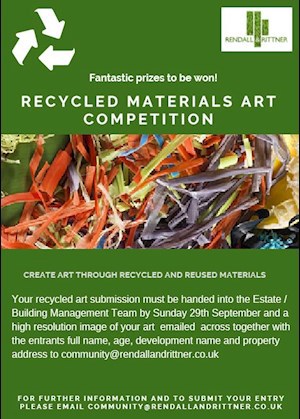 SUSTAINABLE CLEANING PRODUCTS
We are continuing to work with Delphis Eco to use their ecological cleaning products to help reduce our environmental impact, their products are used by our cleaning teams to clean many of the developments we manage as well as our offices.
Delphis Eco uses rainwater during its production process and its product ingredients, transportation and packaging are all positively impacting carbon footprint.
Mark Jankovich, CEO of Delphis Eco, says "This project with Rendall & Rittner is a great example of one company influencing their supply chain to make that green step change. It has forged the way for other FM companies to use ecological products and we would love to see more companies taking the lead."
We are proud to support the Plastic Pledge who's aim is to put an end to the use of single-use plastic.