Since the start of lockdown, Rendall & Rittner has welcomed around 25 new members of staff and although many are currently working from home, we have been doing everything we can to make sure our new recruits feel welcomed, integrated and well equipped to do their jobs.
One key element of this has been through virtual inductions. Fortunately, having updated our induction process 18 months ago to make sure it focused on what was important to us, we were in a good position to adapt this and transfer it online. We have been running the virtual sessions through Microsoft Teams. The sessions give an overview on the company and its culture, as well as other important topics such as operations and IT, with a member of our Senior Management Team also joining in to give an introduction.
Our HR and IT departments have been working closely together to ensure the new staff have everything they need including all the relevant equipment and that they are set up properly. Of course, regular team meetings, as well as training and other communications have all shifted online during this period, and so we are also giving managers support on remote managing. And in order to check in further with the new starters during their first week, we run an HR introduction session on day two and a Health & Safety session on their third day.
We believe one of the key things we can do at the moment is look after the wellbeing of staff. We have been missing out on those valuable face-to-face interactions while we work mostly from home, so we have been focusing on ways to ensure all employees, new recruits included, feel part of a team. Managers check-in regularly through team-meetings and catch ups, while we have also developed a varied programme of other communications and activities to provide ways for people to connect – these range from a weekly broadcast of company updates, a 'work from home' information channel in Teams and 'Feelgood Friday' activities including a staff virtual quiz.
We have also run some initiatives to keep people feeling involved. We took part in the Run for Heroes initiative, which encouraged staff to be active and run, walk or cycle 5km and then donate £5 to NHS charities. Almost 200 members of staff took part in this challenge across our Head Office and onsite teams. We also encourage staff to take part in the 2.6 challenge and we had a range of activities submitted! Our two winners were someone who completed 26 keepie uppies dressed as a cat, and someone who walked 26 steps on stilts!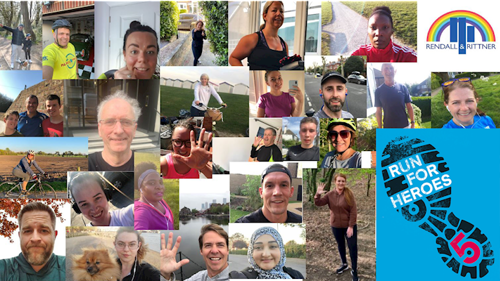 Rendall & Rittner prides itself on being a people-focused business so making this whole period as positive as possible for our staff is a priority. We have received some very encouraging comments from our new starters in recent weeks and we look forward to helping them develop their careers within the business. Here are some of their comments…
"I found all the inductions so far very informative, professional and extremely well presented especially in these ongoing difficult circumstances." - Julie Carter
"Brilliant online induction received under exceptional circumstances."- Jing Li
"The induction was as thorough as it could possibly be at the present time with the hosts engaging all participants to ensure the relevant information was cascaded." - Jenna Thompson