We caught up with Rendall & Rittner Residents Club organiser Gill to discover how the Club has had to adapt to the challenges of the past year and what exiting offers are still available this summer.
Can you tell us a bit about the Residents Club and what it does?
The Rendall & Rittner Residents Club is a free, on-going initiative developed to enhance the experience of those that live in R&R managed properties. We provide a regular 'What's On' guide to keep members informed about exciting getaway opportunities and a range of exclusive events and offers.
The 'What's On' guide offers our members a wide-range of useful information including great 'staycation' tips within the UK weekend and holiday guide and a list of great activities to do over the summer season . For members wanting to go off the beaten track the Cathedral Cities Days Out page offers an alternative trip while there's a guide to sightseeing cruises and boat hire on the River Thames.
What type of offers can members expect to receive?
The Residents Club gives members access to an array of offers from local businesses and service providers, as well as opportunities to attend specially selected events and experiences. Recent offers have included FREE tickets to the annual Taste of London event held in Regents Park, discounts at Gordon Ramsay restaurants The Narrow and London House, and Kahani, a Michelin starred restaurant in Chelsea. For members that enjoy trips to the theatre, discounted West End theatre tickets are available with more to be added as London continues to open up.
Does the Residents Club organise events for members?
Covid restrictions have made it hard to arrange events over the last 18 months or so, earlier this summer we held our first excursion of the year with two trips to the Art of Banksy event in Covent Garden. This was preceded by an exclusive drinks and canapes reception at the nearby Monmouth Kitchen, part of the Radisson Blu hotel. The globally acclaimed exhibition features original and authenticated works associated with one of the most intriguing and talked-about artists in modern history. The event proved very popular and saw members snap up tickets in very quick time and therefore justifying the need for two separate trips.
Our lucky residents were able to view displays of prints, canvasses, screen prints, sculptures, unique works and limited-edition pieces mainly dated between 1997 to 2008, the period which resulted in Banksy's most recognisable and well-known works.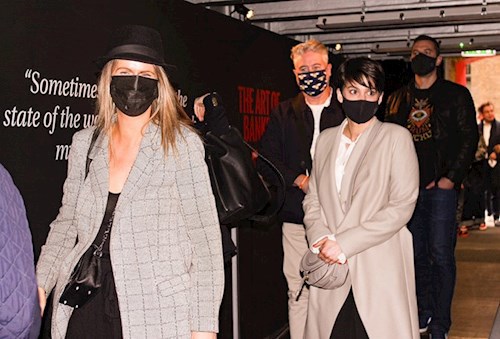 What was the feedback like from the members who attended the Art of Banksy event?
The event went down a storm with our members with several commenting on how impressed they were with the organisation and running of the trip:
Oskar Birol: R&R organised a banksy event that included a reception and tickets to the exhibition. I had a lovely time and am looking forward to joining more events like it.''
Sarah Savins: "I attended the Banksy exhibition organised by Gill Dunsford. The whole event was amazing & very well run. Gill is very professional in what she does & makes everyone feel so welcome. I enjoyed it so much, I'm going back for tonight's event!''
How can residents join the club?
Residents can easily sign up to the club Here and start to benefit from the fantastic deals and experiences that are on offer. Businesses are also encouraged to register their interest with us and add their name to a growing list of partners that are joining our mutually beneficial initiative.
Posted: 16 July 2021