We have been working with Rendall & Rittner for more than five years and we are proud to be their cleaning product of choice. Not only do we supply our eco-friendly products to clean Rendall & Rittner developments, but we also offer special product bundles for residents.
I am passionate about ensuring every element of Delphis Eco is as green as possible, so we were delighted recently to have been awarded The Queen's Award for Enterprise: Sustainable Development. These are the most prestigious business awards in the country, and we are one of only 31 to be awarded for Sustainable Development. Her Majesty The Queen personally approves the winners, thus recognising the ecological cleaning excellence we have achieved at Delphis Eco over the last ten years.
We want to prove that professional cleaning power does not have to be harsh on the environment. We have developed an award-winning, ecological cleaning range made from renewable, plant-based ingredients, providing products that are free from toxins, fumes and chemicals, and are never tested on animals. While aiming for being the greenest cleaning product on the market, we're not losing focus of what our cleaning products are all about – namely achieving fantastic cleaning results.
We also wanted to make our packaging as green as our products. I personally took great care in researching every aspect of our packaging to choose the most sustainable options. None of our bottles have additional dye or colouring and our entire range of products are offered in 100% PCR (post-consumer recycled) plastic. In addition, our triggers do not contain a metal spring which makes the entire product recyclable. We also make sure our labels are easily removable to make separation for recycling easier, thus decreasing the contamination of the UK waste stream. We also use vegetable ink and biodegradable, plant-based label glue on all our labels. Even our boxes are made from recycled cardboard and paper.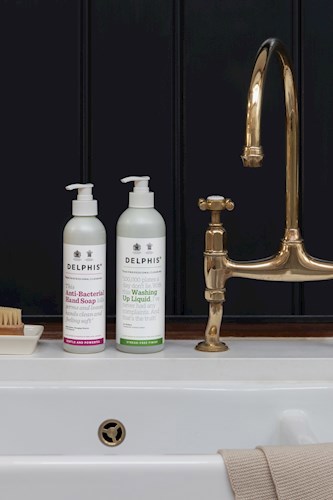 Delphis Eco is committed to ensuring that all aspects of the business are environmentally responsible, which is why we're also committed to manufacturing in Britain to reduce transportation emissions and increase social value benefits.
We're continuously striving to further reduce our emissions and impact on the planet. As part of that, we have committed to reaching Net-Zero by 2030 and look forward to providing our customers with a net-zero product within the next eight years.
We are all incredibly honoured to have received The Queen's Awards for Enterprise: Sustainable Development, which cements our ambition to continually strive to do more for society and the planet.
Posted: 30 May 2022 by Mark Jankovich, CEO of Delphis Eco