In the latest instalment of Back to the Floor blogs, Martin Hellenas, Area Director at Rendall & Rittner tells all about what it's like working with the front-line staff at Smithfield Square and New River Village both in Hornsey, North London. The Back to the Floor initiative enables staff and management to work closer together ensuring Rendall & Rittner continue to deliver high-quality customer service and an exemplary professional practice.
Smithfield Square and New River Village are a collection of luxury apartments managed by Rendall & Rittner featuring a 24-hour Concierge Service and Estate Operatives. It is this around the clock service that makes Smithfield Square and New River Village ideal for residents with hectic lifestyles.
The Concierge at the Smithfield Square development is responsible for directing contractors and delivery drivers and key handling for residents, cleaners and estate agents. During my visit to the development I spent the day with Tibor, who has been working at the site for approximately a year and a half.
The main task throughout the day was dealing with parcel deliveries, of which there was a steady stream. The policy at Smithfield Square is for delivery drivers to deliver to the apartments as a first port of call, however if this fails (i.e. no one is at home) then the Concierge will accept the parcel on the resident's behalf and keep it until they return home. The role was very interactive and it was great to see how many of the drivers Tibor knew well as they stopped for a few minutes to talk. Tibor impressed me with his calm demeanour when dealing with drivers who seemed to forget the policy of attempting delivery at the apartment first, and his polite and friendly manner when residents passed through the lobby. 
As it was a quiet day, parcel deliveries seemed to be the main focus, however this provided me with the opportunity to get to know some of the other staff on-site, which I really enjoyed. I was proud of how Tibor consistently represented Rendall & Rittner's core values and his competencies within his role. I also benefitted from hearing Tibor's ideas for the site and what he believes would be useful to residents.
During my time at the New River Village development, I spent the day with Joao, an Estate Operative. The Estate Operatives' at the New River Village development ensure that the grounds are well maintained on a day-to-day basis and, amongst other duties, are responsible for the external cleaning services of hard and soft landscaped areas and ensuring refuse and recycle paladins are brought out of the refuse stores ahead of the councils' collection.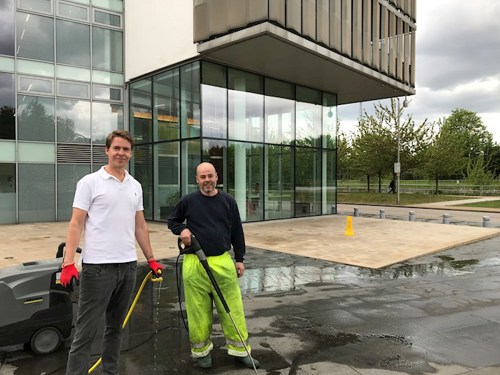 I assisted Joao with ensuring that the grounds were well maintained, part of this task involved litter picking and I found it fascinating that Joao had a particular knack of knowing where the litter would be, and even knew what time types of litter would turn up! As we worked our way through the development picking up litter, I was impressed that Joao made a conscious effort to greet residents as they passed by, on occasion many would stop to raise a query or have a conversation and Joao was always friendly and polite in his responses.
One of the tasks I found particularly engaging was being shown how to use the leaf blower, working with the wind and learning to skillfully direct the leaves in the direction I wanted them to go. The road is lined with some stunning Cherry Blossom trees and the flashes of pink petals while clearing was quite beautiful.
I thoroughly enjoyed my Back to the Floor experiences at both developments, it was incredibly beneficial for me to witness what is going well, what can be improved and to assess how management is able to assist with this. I also appreciated the opportunity to understand the different roles and getting to know both Joao and Tibor.