On Global Recycling Day Monday 18th March, people around the world are encouraged to think about the importance of recycling in preserving the future of our planet. While many of us do our best to recycle things wherever possible, there is always more we could do.
In order to get more people recycling, it needs to be easy for people to access recycling services in their place of work and where they live. That is why we are always striving to offer more ways to make recycling convenient for residents living at the developments we manage, as well as our staff, so they can live a more environmentally conscious life. This week we are excited to announce several new recycling initiatives at our developments.
CYCLE RECYCLE
We have teamed up with the charity Recycle-a-Bike so that any bikes that are no longer wanted can be recycled and reconditioned to provide affordable bikes for the local community, rather than these ending up in landfill. Recycle-a-Bike is a volunteer based non-profit organisation that helps people who suffer from poor mental health, providing support, training and a stepping stone back to employment. A bulk collection of unwanted bicycles will take place across our developments on Friday 22nd March.
FURNITURE DONATIONS
Every year around 1.6 million tonnes of bulky waste is thrown away in the UK and 42% of this is made up of furniture. Often furniture is in good condition and could still be used. The estate management teams across our developments are setting up furniture recycling services to donate unwanted furniture to local charities, so that can it be sold to raise money for good causes and given a new lease of life. Charities usually collect large items for free, avoiding the costs charged by local authorities for arranging bulky waste removals.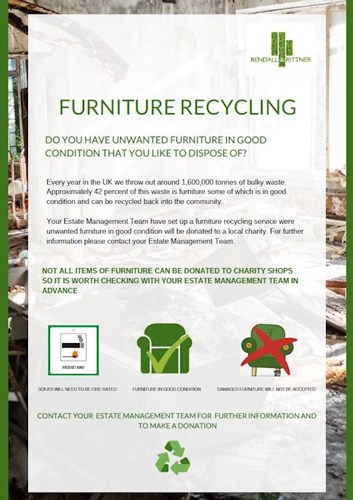 BATTERY RECYCLING
We all know batteries shouldn't be thrown away in the usual household rubbish, so to make recycling them easier for our residents we are working with the European Recycling Platform. They collect batteries from over 12,000 locations throughout the UK and are providing free battery collection boxes across our developments where there isn't already a battery recycling scheme in place.
GET ARTY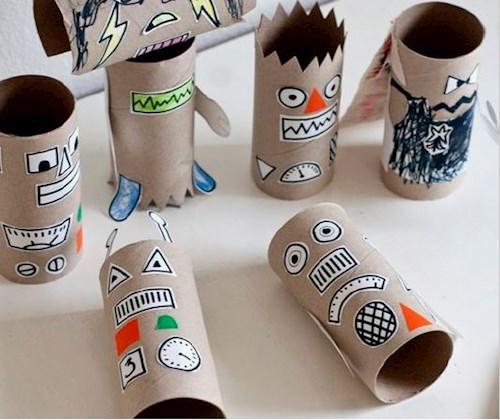 We also think it is important to encourage an awareness and interest in recycling among the younger generation, indeed the theme for Global Recycling Day is 'Recycling into the Future', focusing on the power of youth and education in ensuring a more sustainable future for the planet. As part of this, we have launched a recycled materials art competition, taking place across all of our developments this week. There are three age categories: 9 and under, 10-16 and 17 and older, so that the whole family can take part. Entrants can let their imaginations run wild to create their piece of art, the only rule is that it must be made out of reused or recycled materials. All entries must be submitted by Sunday 24th March.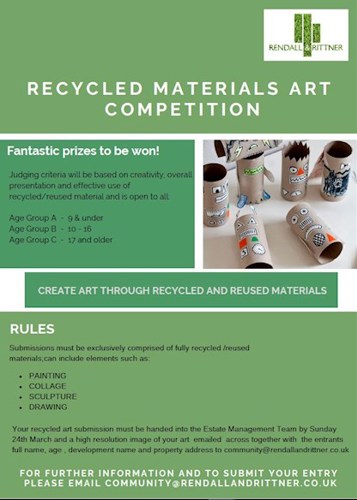 CLOTHES COLLECTIONS
When you want to recycle clothes that you no longer wear, taking them to the charity shop can feel like an effort that you never quite get around to. We have set up clothes collection bins at many of our developments and, this week, we have also introduced them in our offices. Through our partnerships with laundry and dry-cleaning service suppliers LaundryRepublic, clothes are collected and given to charity, preventing them from ending up in landfill. Last year clothes donated via White Rose in our northern region raised over £110,000 for charity. Across our southern region, donated clothes are sold in Scope's charity shops to raise funds to support disabled people and their families, which raised over £24,000 last year.
We are also aiming to reduce paper usage and, as a business, become as paperless as possible. All leaseholders have the option to only receive e-billing.  Leaseholders wishing to opt into this service will find information on how to do this on all service charge demands or they can contact their Property Manager for assistance.
Latest Defra figures show that 46% of waste from UK households is recycled and the target is to increase that to at least 50% by 2020. Reducing plastic usage, recycling more and conserving the world's resources is a global issue and one that affects us all, so it is up to all of us to do our bit.
For further information about our recycling initiatives, please contact: community@rendallandrittner.co.uk