As Customer Service Week draws to a close, we want to take the opportunity to thank all of our customer service heroes here at Rendall & Rittner. We have recently been asking our staff and residents to nominate Head Office staff and on-site staff that have gone above and beyond in our Service Excellence Awards 2021. Despite tough competition, the results are now in and we are delighted to be able to announce the winners!
Around 500 members of staff work in our Head Offices. Our Head Office teams oversee many aspects of the company including training, recruitment and property management. The winners of our Head Office awards go to team members that have taken a personal approach to residential property management, demonstrated excellent professionalism and delivered outstanding customer service.
This year, our colleague-nominated award for Head Office staff goes to Saeed Rafiq. Saeed, one of our Assistant Property Managers, comments: "Thank you to everybody who voted for me, I feel very honoured to have won this award as taking pride in my work and ensuring excellent service provided is paramount. I would not have been in this position if not for the support my manager and co-workers provided. Working alongside such resourceful and approachable people has allowed me to grow very quickly in my short time in property management."
The winner of our resident-nominated award for Head Office staff is Emily Bullock. Having worked for Rendall & Rittner for more than 10 years, Emily, in her role as Senior Property Manager, understands the importance of customer service. When asked about her win, Emily explains: "I was both shocked and delighted to receive such a lovely award as I feel very passionately about providing good customer service. I have worked for Rendall & Rittner for over 10 years and love how the business has customer service at its heart. It is why I am proud to have built my career with Rendall & Rittner.  Our industry should be very customer driven and I truly believe we are leaders in our sector."
Members of our on-site staff were also rewarded for their hard work. Over 1,500 people work across our developments, building relationships with our residents and maintaining high-standards across our sites.
This year, Brian Klue receives our colleague-nominated award for on-site staff. Brian is the Acting Estate Manager at Chelsea Bridge Wharf, and has achieved this award after thriving in his new role. When speaking about his award success, he comments: "This has come as a huge surprise to me and is yet another reason why I enjoy working here. In five months, I have moved from Facilities Management to Estates Management and I have absolutely loved it, embracing all the challenges along the way. Thank you to everyone who voted for me and to the incredible support of the team around me who have been most helpful and welcoming."
The winner of our resident-nominated award for on-site staff is Rizwan Mohammed. Rizwan works as a Building Manager at Adelaide Wharf where he enjoys the community's family spirit. When asked about his win, Rizwan explains: "Thank you to everyone who voted for me for the Service Excellence Award 2021, I am truly grateful for your support. Adelaide Wharf has a great family spirit and I was embraced by the Residents the moment I joined the team, which allowed me to build a strong rapport with them. It gives me great pleasure knowing my service over the year has left a lasting impression on the residents here at Adelaide Wharf. I would also like to thank my Property Manager Svetlana who has allowed me to take on responsibility and provided the support when required."
We would like to say a huge congratulations to all our winners!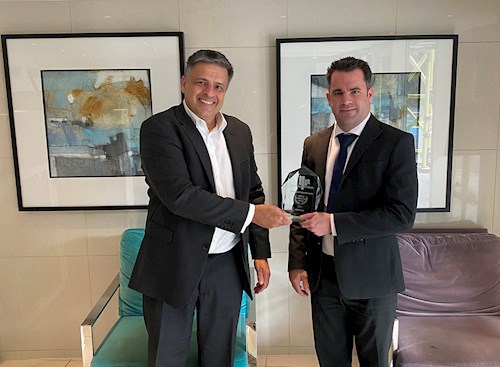 Posted: 06 October 2021