This week is National Careers Week, an event designed to provide inspiring careers guidance for young people as they consider potential future career pathways. With a wide variety of jobs on offer in the property management sector, we want to take the opportunity to shine a light on potential career options that many school leavers may not have considered. To celebrate National Careers Week, we therefore spoke to a few members of the Rendall & Rittner team about their career development within this growing industry.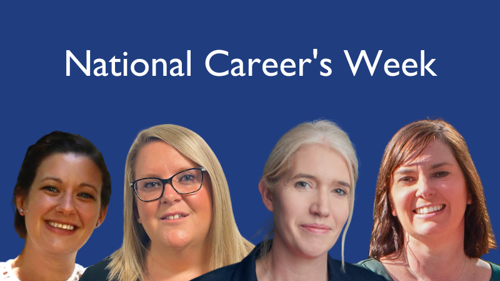 From left to right: Emma Hares, Hannah Green, Sam Short and Catherine Orezzi
Sam Short is our Systems Director. Having originally pursued a career in fashion in New York, Sam joined Rendall & Rittner in 2003 as PA to Directors, Duncan Rendall and Matt Rittner. Getting involved in many aspects of property management in this role, Sam was promoted to Team Leader in 2005, and later to Associate Director, Area Director and Divisional Director. In 2020, Sam took responsibility for developing our new IT solutions as Product Owner before becoming Systems Director in January 2022.
Sam comments: "I've been with R&R for nearly twenty years now. I came into the business in a junior position with good office skills and a desire to learn and find a career. Rendall &Rittner has always invested heavily in its people and encouraged and supported me to grow within the business. It also actively supports diversity and inclusion through hiring strategies and ensuring that it has a culture where everyone is welcome and is valued for what they bring; not what their background is. In 2020, I was seconded to support our IT team and started leading on our big tech projects to develop our customer engagement platform and new customer portal, MyPlace. In January 2022, I formally took on the role of Systems Director and continue to work on our tech changes which will secure our ability to deliver fantastic customer services into the future."
At Rendall & Rittner, we believe that professional and personal growth are as important as business growth. We offer internal training opportunities alongside supporting and subsidising our people to achieve relevant professional qualifications. We also believe in the importance of celebrating and recognising achievements and development, which is why we have recently announced 41 promotions!
One of those recent promotions is Emma Hares, who has recently been promoted to Area Director for one of our London divisions. Having joined Rendall & Rittner in 2020 as a Property Team Manager, Emma comments on her experiences: "Having worked in the industry since 2013 I've enjoyed the ever changing challenges of property management and have benefited from the great Health and Safety Team and training programmes we have at Rendall & Rittner. One of the things that has been a big benefit to working here is the flexible working which really assists with maintaining a healthy work life balance and has allowed me to progress in my career and still enjoy family life.  My manager Elisa has been a huge support which I really appreciate. The new Area Director role comes with a new division and team so I am excited to get to know everyone and continue on the company's journey."
Another of our recent promotions is Hannah Green. Hannah joined Rendall & Rittner in 2016 as an Senior Property Manager, before being promoted to Property Team Manager in 2019.  Hannah, who is also being promoted to Area Director, comments: "I am really looking forward to becoming an Area Director shortly and facing the new challenges that undoubtedly come with the role, along with working with our highly experienced Senior Leadership team. I have been working in the property management industry for the last 19 years, the last 7 of which have been with Rendall & Rittner. I joined the company as a Senior Property Manager working on a portfolio of large complex properties and was promoted to Property Team Manager which I have very much enjoyed for the past 4 years."
Catherine Orezzi is the HR Director for Rendall & Rittner Operations Limited. Having joined Rendall & Rittner in 2017 as Head of HR, Cat took on her current role in 2019. Cat has recently joined the Rendall & Rittner Board. Speaking about joining the board, Cat comments: "I'm delighted to be joining the Rendall & Rittner Board. We are such a people-focused business, and our employees are integral to everything we want to deliver, so being able to lead on our people initiatives with the board will give it even greater impetus."
Find out more about careers with Rendall & Rittner here.